Author Flora Baker on her book about orphanhood | A pod milestone | Comedy news
Let's stick to the two extremes shall we
Hi there,
Here's a little something to read while you enjoy the easing of lockdown. Hope you're looking forward to the easing of lockdown, when apparently we'll just have to keep one metre apart at all times, instead of two - if you're having trouble doing that, just imagine 1.5 fridges between you.
Glad we've got that sorted.
---
The podcast is currently almost at 9,600 downloads - can you help me get it to 10,000 by 1st July? Things you can do include: retweeting; sharing Insta stories; leaving a review; screaming about it from the hilltops, at least on (1) metre away from any living breathing people. Thank you!!
---
Onto the latest podcast episode, featuring author Flora Baker!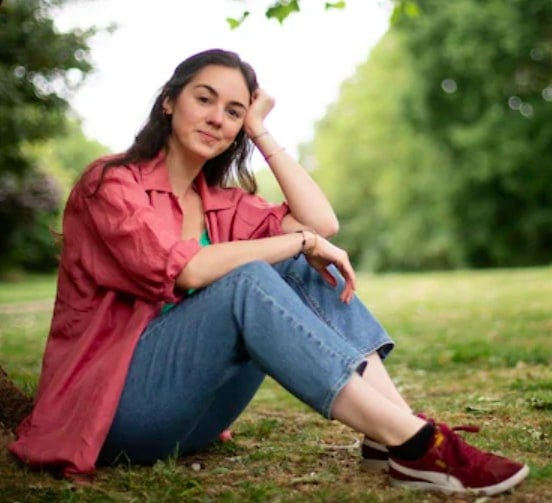 Today, I'm a published author 😭
I really wasn't expecting to feel so emotional. But today I really, really miss my mum. I spent a crying half hour in bed this morning, imagining all the things she'd be doing to celebrate this moment. She'd have texted me at midnight, phoned the moment she woke up, sent congratulatory cards in the post, hung up a banner above the kitchen window, probably called all her friends to boast about me. Except of course I wouldn't have been able to write this book if she'd still been here.
Then again, today was her birthday - so it makes sense to imagine the ways she used to celebrate. My mum was a constant celebrator of everything - every joyous moment, every tiny thing. She always made me feel special, and she loved the idea of me being a writer. So writing a book is something of a birthday present to her. Sorry it's eleven years late, Mum.
OK. Enough crying. This is a huge thing for me (in case you hadn't guessed by now!). My first book,
#TheAdultOrphanClub
, is out RIGHT NOW. If you click the link in my bio it'll look like this on your kindle screen in a matter of minutes. I'd really love it if you read it 💛
Flora's first book, The Adult Orphan Club, was published at the end of last week. Flora lost her mother at 20, and her father just a few years ago at 30. We met in the Young Orphans Whatsapp group (find out more here; and I write about my parents here) a few months ago, and I admire Flora for her ability to write about the worst losses of her life in a form that's also a helpful guide for people who are grieving, and for people who love someone who is grieving.
On the podcast, we talk about processing pain through writing, and blogging in particular; the benefits of self-publishing over "trad" publishing; and the power of a large and engaged social media following.
Grief is still not talked about very much, and as a result is very misunderstood. That only makes it worse for the bereaved, who already feel isolated and not quite like themselves. With her book Flora gives an honest account of what it feels like to be orphaned early in adult life, and in doing so opens up an experience that is rare, painful and difficult to explain in all its far-reaching effects.
---
That Comedy News I promised in the subject line
I got through to the Stage Award Virtual Heats of the 2020 Funny Women Awards!
Here's the video I sent in, it's from the end-of-term stand-up event that rounded off the six-week stand-up course I did there earlier this year.
Highly recommend The Bill Murray's courses, if you fancy giving it a go. Try out their free Comedy Writing Gyms online every Thurs-Sun from 2-3:30pm while we're on lockdown.
---
Here's the latest Global Letter from Lockdown, courtesy of Jillian Anthony, who writes the wonderful Cruel Summer Book Club newsletter. Pop over there and subscribe!
On Sunday, March 15, I flew out of New York to Los Angeles on a one-way ticket, expecting to stay with my family between two to four weeks. A week later, my mother and I drove to Las Vegas, where we had decided to quarantine together, away from my still-working father and sister. A week after that, I was laid off. Any visions of my future resembled a gaping hole.
The first week without a job crawled by, filled with tears and anxiety. Then, I settled in. I decided to enjoy this prolonged time with my mom, and the warm desert sun. Quickly, the heat soared into the 100s. I wore the same two tank tops I had brought with me day in and day out.
In April we woke early to hike in the nearby mountains. Every day, we'd track the progress of the wild beavertail prickly pear cacti, bursting with neon pink flowers. By May, you had to get outside by 7am to beat the heat.
Luckily, one of my closest friends lives in Las Vegas, too—I watched her get engaged on a hike, and we walked a desolate Las Vegas Boulevard together, clutching homemade drinks. "We'll see you again soon! #VegasStrong" said the billboard of the Aria Hotel.
Las Vegas's mayor gave a widely-ridiculed interview with Anderson Cooper during which she pushed for the casinos to reopen right away. Soon, restaurants and beauty salons and more did open their doors. I watched from my apartment balcony as people flocked to the Mexican restaurant in the square below; tables were not distanced, and no one wore masks besides the workers.
A few weeks later, my friend and I sat at an outside table at a bar in downtown Las Vegas. Inside, about 50 patrons lined the bar. Across the street, people lined up to get inside a club. When I walked into the bar to use the bathroom with my mask on, people stared; I was the only person wearing one.
Three months after I first flew to Los Angeles, I stepped off another plane at JFK. The next day, I woke early to walk in my beloved Prospect Park. Here, it was an entirely new season. The park felt tropical; the trees teemed with life and blooms; the late spring air was heavy with humidity.
I felt giddy as I watched swans glide and frogs croak and robin chicks reach their bobbling heads out of nests to be fed. All of the people fishing and exercising and walking their dogs around me wore masks and gave each other space. As I walked home, I passed a jazz band playing outside of the Boathouse. People swayed. New Yorkers would still have their summer.
---
Links Links Links
---
Coming up on the pod next time: a comedy type! [Not me]
That's all from me, speak soon x